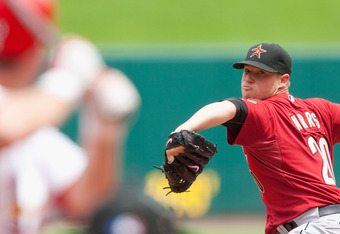 The St. Louis Cardinals
finally found the cure for the strange voodoo Houston Astros starter Bud Norris has had over them in his short career. Entering Friday nights game, the second year right-hander had earned 4 of his 8 career victories against the Cardinals. But a run-scoring double by Albert Pujols in the first inning broke the spell, Adam Wainwright's magical pitching supplied the potion, and Matt Holliday's 8th inning home run delivered the cure as Norris and the Astros succumbed 8-0.
Norris is best described as a serviceable starter for the Astros, coming into Fridays game with a career record of 8-9 with a 5.29 ERA and 123 strikeouts in 22 starts. Against the Cardinals, however, he became Walter Johnson reincarnated - 4 wins in 4 starts giving up only 1 earned run and striking out 25 in 26 innings and giving up no home runs. That's a 0.38 ERA folks. Bob Gibson is jealous. But the Cardinals cast off his curse, and just when they had to.
For the first time this season, Holliday homered after Pujols was intentionally walked. It came in the 8th inning, and was the the coup de grace that chased Norris and his voodoo from the game - and Cardinals fan's nightmares - a rocket shot off the back wall of Minute-Maid Stadium. And when Pujols homered deep to right field in the ninth inning it was another rarity in this season of disappointment for the St. Louis offense, marking only the second time this season Holliday and Pujols had connected in the same game. That's the recipe the team envisioned when it signed Holliday to the largest free agent contract of the off-season. Walk Pujols and Holliday will hurt you, don't walk Pujols and he will kill you.
Other themes of optimism emerged for St. Louis. Rookie OF John Jay was 2-4 and has now hit in 8 straight games dating back to May 30. He now has 8 hits in 14 AB with 2 HR since being recalled on July 3. Infielder Tyler Greene went 1-3 and since his call-up on July 2 is 5-17 with 3 extra-base hits, and seems to be taking over for Brendan Ryan at SS - plugging a gaping hole in the line-up.
But the wizardry was all Wainwright's. The lanky right-hander tossed 8 shutout innings, giving up only 6 hits, lowering his ERA to 2.11 and giving him 13 wins on the season - 2nd in both categories in the NL. And he blessedly took pressure off the beleaguered bullpen.
The voodoo curse of Bud Norris has been lifted. But not necessarily broken. After the Cardinals scored their second run in the 2nd inning, Norris retired 13 in a row. He still has a 1.81 ERA against St. Louis in his 5 starts. And, perhaps, spun a little more voodoo devilry as CF Colby Rasmus had to leave the game with a hamstring injury. No word yet on the severity. If Norris is to blame for that, he would indeed be a Santerian priest.
This post originally posted on Bleacher-Report