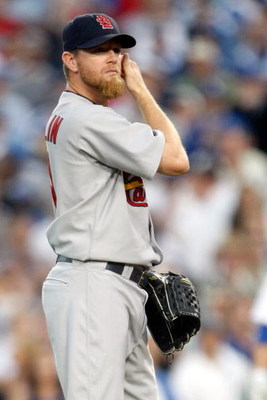 With the sour, bitter taste of the ninth inning yesterday unwashed from our mouths, Angela Weinhold has a nice historical take on what to expect after the break from our Cardinals:
Tony LaRussa And The Second Half | Baseball Digest
.
The despair and frustration on twitter last night did not have the cathartic effect one gets from listening to the blues after your wife walked out. But the sun did rise today. And the good of last nights game comes back to the front of my mind. Tyler Greene was good. Aaron Miles showed he's still a pest with the singles. Felipe Lopez's HR makes the case that his bat when utilized every day is sharp, and when Flip's bat is sharp it is dangerous. Hawksworth was effective if not efficient. And we got to see Pujols and Holliday both hit well at the same time, and lose the game.
Baseball
is a game of failure. If you fail 68% at the plate you get a huge raise. To succeed, you need the ability to maintain a calm mindset. Never get too wrapped up in the moment, because you got to get after it again tomorrow. So Ryan Franklin finally stunk one up during the first half of the season. It happens.
Here's to forgetting the ninth, and building on the great things that happened in the game. Then Angela can amend her article with a nice, happy entry about 2010.